Mountaintops, Valleys & Ordinary Plains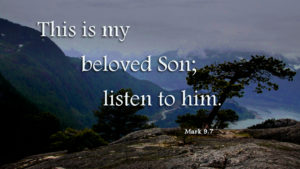 Sermon by Rev. Steven McClelland on Mark 9: 2 – 10.  Focus on experiencing God at all levels of life – joy, sorry and everyday.  Check out Jody Sinkway & the First Presbyterian Church Choir.
There are some moments in life that are so precious that to speak as Peter did would not only be absurd, but would ruin the moment. I have been blessed with a few of these very precious moments in my life.
They are moments of transfiguration. Theophanies are those moments in life in which God clearly speaks to us just like the one experienced by Peter, James and John.
I had a mountain top experience, maybe you have too. Mine came when I was in college and I wanted to know if God was real so my prayer walking down to the banks of the Mississippi was that if God was real why didn't he speak to me the way he had spoken to Paul or my father or my grandfather?
And God did. God came to me as a theophany, a voice and focused light. I will never forget watching as I took a step into the woods and looked back and I saw my footprint. I saw the water filling in the indentation of my footprint and a voice as clear as a bright sunny day said, "That is your life passing before you. You will never get that moment back again. Your life is made up of such moments."
The entire experience lasted about 15 minutes and I wrote everything down after the fact because it was one of those mountaintop experiences that you never forget and want to remember every detail, but like Peter you can't capture a moment by building a booth or by writing it down.
And that's because God never meant for us to live on the mountaintop. The story that immediately follows this one, which is never part of the lectionary, is the story of Jesus and the disciples coming down off the mountain into a valley where they find a boy who is having an epileptic seizure. His mother and father are obviously upset about their desperately sick son and the point of this is to say that when we come down off the mountain we come back into the world that we live in most of the time.
And by following the mountaintop experience with one in the valley the gospel writer is telling us that God is also found in the valleys of life too.
I like how Scottish theologian Henry Drummond puts it when he writes: "God does not make the mountains in order to be inhabited. God does not make the mountaintops for us to live on. It is not God's desire that we live on the mountaintops. We only ascend to the mountaintops to catch a broader vision of the earth and the life that surrounds us below. But we don't live there. We always come down from the mountain top experiences. The streams start in the mountaintops, but they come down to gladden the valleys below."
In fact you and I live most of our lives either in the valleys or on the plains of life. You and I both know what happens the next day after coming down off the mountain. It is back to a real world with real problems in our very real lives. After the Sunday's of life there are always the Mondays of life.
God flies at all altitudes. God flies at 30,000 feet and below sea level and right at sea level. God is with us when we come off the mountain. You know what it means to experience the severe illness or death of a loved one. You know what it means to have trauma in your marriage or life. But the good news is that God is also with us when we walk through the valley of the shadow of death.
For me that experience is depression. The complete feeling of isolation and lack of feeling worthy of anything good coming your way. But it is only God who can be with you in those moments. It is only God who can give you a reason to live. It is only God who can offer you hope when your own mind is telling you things are hopeless. And we know this is true when we look back over the journey. It's like the Footsteps poem says: "When I saw only one set of footprints in the sand it was because God was caring me." "I'll keep on keeping on Lord if you lift my legs up, because I know I can put them down."
And God is also and most of the time with us in the plains or the ordinary time of life. To be honest we don't spend as much time on the mountain tops or in valleys of life as we do in the ordinariness of life. God is with us when we get up in the morning, when we drive to work or have breakfast with our friends and colleagues. God is with us when we lie down and when we rise up. God is with you when you stand under the flowering dogwood in the spring time and you look up and see a million petals bursting forth. And God is with you when the leaves burst forth in fall color and drop to the ground. You know, in the ordinariness of life.
I'll close with this little tale. There was a rabbit who was born in New Jersey. His name was Mr. Hopewell and he was born when it was very cold. He asked the question: "Where is spring?" Mr. Hopewell found a daffodil that had just sprung to life and asked: "Are you Mr. Spring?" "No, said the daffodil, but I always come out when spring is here." Then Mr. Hopewell found a large black bear and asked: "Are you Spring?" "No, said the bear, but I wake up and am very hungry when spring arrives. And with that Mr. Hopewell hopped away. Mr. Hopewell was sad and found a robin sitting on a branch and asked, "Are you spring?" "Oh no! said the robin. Spring is all around you. You are living in the middle of spring, right now said the robin."
And so it is with God: Whether we ascend to the mountain tops or make our beds in the valleys of sheol or find ourselves living on the plains God is there. You are living in the middle of God's world right now says the psalmist.
I like how the poet puts it: "I would seek to comprehend thee as the whole wide earth enfolds thee. Thou groweth with my maturity. Thou art in the calm and the storm. Thou were in aeons old, which as the years pass by me, all quietly unfold before me." Enjoy the journey. Amen (Ranier Marie Rilke)