Welcome our New Music Director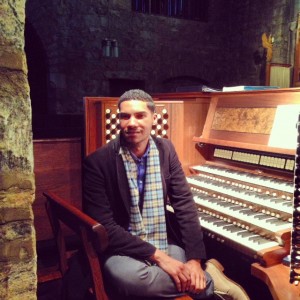 Rasaan Hakiem Bourke, Composer, Conductor, Organist, and Pianist
Rasaan Hakiem Bourke began his artistic journey at the age of ten, with a fascination for the Pipe Organ at Holy Rosary Church in The Bronx, where he and his family attended Mass. He began teaching himself to play the piano and organ; and, at the age of 15, began taking formal lessons.
Bourke has since studied with some of the world's finest musicians, including Dr. James Jordan of Westminster Choir College at Rider University in Princeton, New Jersey (conducting); German organist Stefan Engels (organ); and internationally acclaimed Bach interpreter, Christa Rakich (organ).
In 2007, he was named Assistant Conductor to Dr. Thea Kano, Founder and Artistic Director of the New York City Master Chorale. Since that time, he has helped Dr. Kano and the NYCMC prepare and execute five successful seasons, in which were performed: Mozart's Requiem; Beethoven's Symphony No. 9; Bach's Magnificat; Rachmaninoff's Vespers; Poulenc's Gloria (for which he served as organist); Durufle's Requiem and Messe Cum Jubilo; and the world premiere of contemporary composer Paul Leavitt's Requiem.
In 2009, he performed as pianist for the NYCMC, conducted by Dr. Kano, in their performance of Morten Lauridsen's Lux Aeterna at Carnegie Hall.
From 2009 to 2014 Bourke served as Director of Music Ministries at the Parish of Saints John and Paul in Larchmont, New York, where he also performed as principal organist and pianist and, in 2010, formed the "SJP" Chorister Program. The program provides a platform for elementary school students within the parish community to witness to their faith by performing at the Family Liturgy each Sunday. This past Spring the SJP Choristers received an invitation to present a concert at the Church of St. Paul the Apostle, the mother church of the Paulist Fathers, at Lincoln Center.
Rasaan Hakiem Bourke feels called, by his music, to reveal what the face of God might look like to the one seeking it. It is with great joy that he may this year add to his list of accomplishments: Founding Artistic Director and conductor of The Renaissance Chamber Collaborative and Director of Music Ministries at First Presbyterian Church of Hackensack, NJ.
Contact Rasaan at 201-342-7570
or by email RasaanB@fpchackensack.org
"When words leave off, music begins." Heinrich Heine
"Music is the mediator between the spiritual and the sensual life." Ludwig van Beethoven