Vacation Bible School August 14 – 18, 2017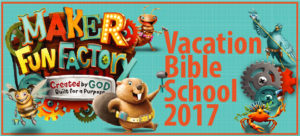 VACATION BIBLE SCHOOL – AUGUST 14 – 18, 2017.  Spark Imagination with Faith-Building Fun!  Imagine a world where curious kids become hands-on inventors who discover they're lovingly crafted by God.  Spark creativity with interactive decorations and experiences.  What a week of fun – and lasting Bible learning.  For information and registration contact – 201-342-7570 or email: deborah@fpchackensack.org.
The link below is a downloadable PDF to register your child.