The Way of the Lord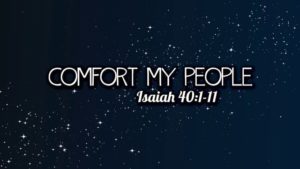 Sermon by Rev. Steven McClelland on Isaiah 40: 1 – 11, 2 Peter 3: 8 – 15a Focus on why the Lord's delayed 2nd coming is good news for all of us.
This young man asked God what time was like for God and God said, "A thousand years is like a second to me." And the young man said, "Wow! What's a million dollars like to you God?" And God said, "It's like a penny to me son!" And the young man asked God, "Can you spare a cent?" And God said, "Sure! Just give me a second."
From the opening chapters of Genesis till Isaiah 40 two thousand years of Biblical time have elapsed and in that time God has moved from being impulsive, vindictive, judgmental and war like, to being strong, comforting, loving, forgiving and forever enduring. What would it be like if we were to change every day they way God has been changing?
What would our world be like if we were to change and improve the way we behaved toward one another everyday of our lives, the way God has been changing since the beginning of time? Because that's also what Advent is about. Besides watching and waiting for God to return we are to be in the process of changing who we are.
And if God's coming into our lives seems slow at times, it's because we perceive time in a different way than God perceives it. We see time as chronos, the steady ticking away of seconds and minutes, days and years until we die. God sees time as Kyros, salvation time, time enough for us to change and be ready to receive his coming into our lives.
Which as Peter reminds us is a good thing, because until we change we will not see God's arrival in our lives. And so he says, "The Lord is not slow about his promise as some count slowness, but is forbearing toward (us), not wishing that any should perish, but that all should reach repentance."
Repentance that act of turning around and going in a new direction forbearing the continuous action of exercising patient, self control and restraint of anger and both of these are possible for us because God has already undergone these changes before us.
To truly appreciate the magnitude of this change listen to these words of God from Isaiah chapter 6: "Go, say to this people: Hear and hear, but do not understand; see and see, but do not perceive. Make the heart of this people fat, and their ears heavy, and shut their eyes; lest they see with their eyes, and hear with their ears, and understand with their hearts, and turn and be healed."
Then Isaiah said, "How long, O Lord? And God said, "Until cities lie waste without inhabitant, and houses without men, and the land is utterly desolate, and the Lord removes men far away, and the forsaken places are made in the midst of the land. And though a tenth remain in it will be burned again…" (9 – 13a)
Now hear these words from Isaiah chapter 40: "Comfort, comfort my people, says your God. Speak tenderly to Jerusalem, and cry to her that her warfare is ended, that her iniquity is pardoned, that she has received from the Lord's hand double for all her sins… He will feed his flock like a Shepard, he will gather the lambs in his arms, he will carry them in his bosom, and gently lead those that are with young." (1-2, 11)
This is a huge change in God. Talk of death and destruction for the most part ends with this chapter. Talk of comfort, forgiveness, tenderness, and mercy for the most take over through the rest of the Bible and if we have any doubt about this then let us look to Jesus to see what God is like in the flesh and what God desires for us to be like.
It is not God's desire as some Christians claim to have some of us die while others of us get saved. It's God's desire, it's God's forbearance, his continuing action of exercising patient self restraint so that all might be saved that delays the second coming. But it only appears as a delay to those of us who are impatient and believe that it's ok that some should be damned.
The reason for advent is the very reason we need to turn around and go in a new direction, because until we can love like God, which is unconditionally, until we can forgive our enemies and neighbors not seven times, but seven times 70 times, until we see the world with righteous eyes, eyes that see things as they really are and want for those things to be made right, for justice to roll down like rivers and a mercy like an ever flowing stream, then we are the ones who should be most glad that God is delaying his final judgment, because it isn't God that needs to change this time, its you and I that need to change.
And the key to knowing if we are on the right track is if we can honestly say that all of our rising up and our lying down is done with the effort to live out our lives as if it was me, not my neighbor or my sister or my brother but me standing in the need of prayer and change.
Advent is our reminder that we are continuously to be about change, changing from self-righteous and self certain people into humble open disciples who ask only for the knowledge of God's will in our lives. We are to be holy people, which means we are to be different than others and by that we are to love mercy, practice justice and walk humbly with our God.
And when we do this then the prophecy of Isaiah becomes real because we prepare the way of the Lord's coming, so that what is crooked can be made straight by God and what is low can be lifted up by God and what is rough can be made smooth by God so that the glory of Lord can be revealed and all flesh can finally see it together. That's what Advent is all about. Amen